{EYMM Mommy & Me} Tour
I just love participating in Kymy's tours because her patterns are so quick and easy to sew, and the finished product always fits just right as well as being very comfortable! So, if you are like me and always wait until the last minute to sew something up, the
Calla Lily Skirt
(affiliate link) is a great pattern to reach for. I think that I probably spent about 3 hours total making BOTH of these....so, you still have time for Mother's Day!!!! My daughter still likes to match me so I wanted something that would coordinate well, however not be too matchy and I am very happy with the end results.
My measurements are waist 44" and hips 54" so that put me in the 3X. According to the unfinished measurements on the chart, I made the decision to cut the waistband a few inches shorter than recommended so that it would fit more snug and I am glad that I did. The fabric that I used was a
rayon jersey blend
from
La Finch Fabrics
so it was fairly thin and sits a bit looser on my waist. I just LOVE the fabric though. It is incredibly soft to the touch and the drape on it looks fab...especially with this pattern! La Finch's fabric are all high quality knits from high end manufacturers at a discount and I have yet to be disappointed by anything that I have purchased from them.
For my daughter, her measurements are 33.5" waist and 36" hips so I made an 18. Even though she is much shorter than the height measurement for that size, I left the length as is because she has been wanting a longer skirt. I think that it turned out great and she has not wanted to take it off the past few days...which is always a WIN! I knew that I HAD to add the shorts to the pattern since she is pretty active and still learning how to be a lady ;) BEST OPTION EVER!!!!! When I can add shorts directly into a pattern and not have to search for something to go underneath, it makes me a happy camper. I told her before she put it on that it had a surprise in them, which made her giggle...she loves the shorts option too. The fabric that I used is a rayon spandex that I was able to snag from the
Pretty Posh Prints
group on Facebook. It is a nice thickness but has great drape making it perfect for this skirt.
I am definitely adding this one to the list of favorite skirts and think that I might just have to make a few more for summer ad add shorts to mine as well!
Pattern
EYMM Calla Lily Skirt
Price
$9.95 ($16.95 bundle)
Size
Womens XS-5X & Girls NB-18 Tween
Difficulty
Confident Beginner
Fabric
Rayon blends recommended or those with good drape and recovery
Fit
Good. Waistbands seemed to be a bit large for both sizes, but that can also depend on fabric choice as well
Modifications
Shortened waistband
Pros
Extremely quick construction; multiple hemming options; flattering fit
Cons
Notches would be helpful along the front so one knows exactly how much to overlap each piece. Tutorial instructs to overlap according to length in chart.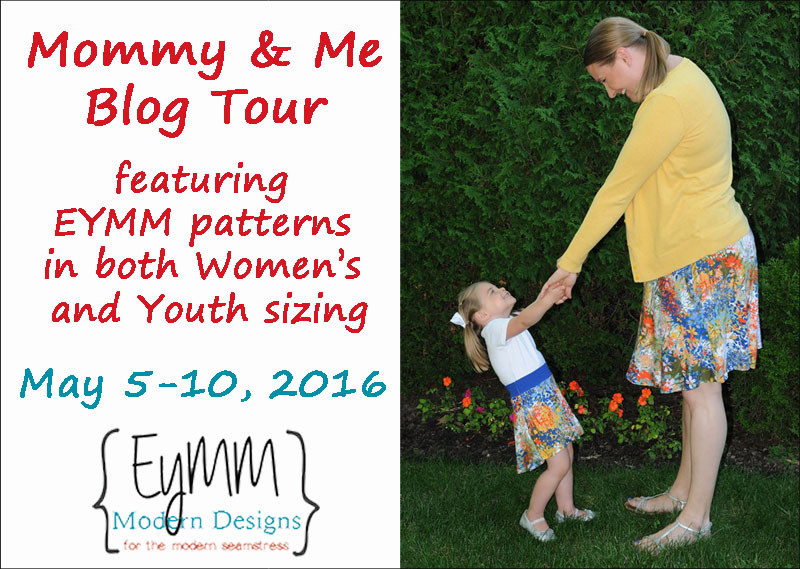 Make sure to check out all the stops on the EYMM Mommy & Me Blog Tour! (Note: the direct links below won't work until their scheduled day, but feel free to click through and check out their blogs any time!)
May 6
May 7
May 8
May 9
During the tour, all Mommy & Me Bundles are on sale! Use coupon code MOMMYANDME2016 on the
EYMM site
to save 25% on any
Women and Youth Size Pattern Bundles
until May 10 at 11:59pm PST (note: build your own bundles are excluded from this sale).
*Disclaimer: I received this pattern free of charge for participating in this tour. As always I give my honest opinions.*