{EYMM Hoodie Tour} His & Hers Hoodie
Hey guys! I am excited to be here on my SECOND EYMM blog tour. This tour is all about Hoodies, since fall and hoodie weather is quickly approaching us. I was in desperate need of a new hoodie/light jacket to wear for fall/winter, so I used the
His & Hers Hoodie
.
Let's talk about the pattern for a moment and go over a few details. EYMM has the
His & Hers Hoodie & Hooded Vest
available for adults and the
Zander Hoodie & Hooded Vest
for children.
Zander Hoodie & Hooded Vest:
Infants: 0-3m, 3-6m & 6-12m
Toddlers: 12-24m & 2/3
Youth: 4/5, 6/7 & 8/10
Tween: 12/14 & 16/18
Skill level: intermediate
13 pages of directions
34 professional digitized pages that you assemble to make the full sizes pieces
His & Hers Hoodie & Hooded Vest:
Womens: XS-5X
Mens: XS-5XL
Skill level: intermediate
16 pages of directions including 2 pages at the end with more detailed directions for attaching the lining to the main outer shell
119 professional digitized pages that you assemble to make the full sizes pieces
When I was looking for fabric, I thought that I would just use a sweatshirt fleece from Joann's, but when I got there I found this AMAZING
Brushed Poly Cotton Spandex
blend. I know that has a bit more stretch than what was intended for this pattern, however it seemed to be nice and sturdy making it great for a jacket and ended up being super easy to work with. It also had the nice soft fleece on the wrong side of it. Since I was using such a nice fabric to construct the outer shell, I figured that I would splurge and use my Art Gallery Curiosities knit in Splenderiferous Warm for the inner core.
The pattern went very smooth without too many issues other than attaching the shell to the outer. Kymm has added an extra 2 pages of tutorials at the end of the pattern to walk you through the process though, making it a bit easier. Imagine her there holding your hand through the process! I just love the unique touch that the asymmetrical zipper gives it as well as the little bit of the lining that peeks through when zipped. The hood is nice and large, making it very easy to add a hat during the super cold days if desired.
I embraced the opportunity to work with zippers (not one of my strong points) and gain a bit more knowledge little by little so that they are NOT so intimidating. I have one tip for getting the zipper to line up correctly. After you have attached one side of the zipper, zip it up all the way and mark the unsewn zipper tape at both the pocket where it needs to line up, as well as the very top where it should end and go into the fabric. Trust me when I say that this will making lining everything up SUPER easy.
Would you like to *WIN* a copy of either pattern? Leave me a comment below letting me know which pattern you would like to win and why? At the end of the tour I will use random.org to choose a winner.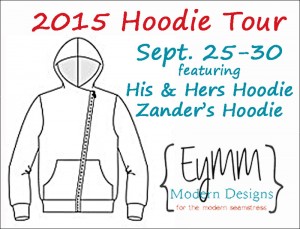 Make sure to visit the other stops on the tour to see more versions and hoodie inspiration! Many are giving away a copy of the pattern! (Psst ... check out the awesome savings listed after the tour links!)
*NOTE* The links below won't show the tour posts until 7am PST on their day of the tour, BUT you are welcome to click through and check their blogs out at any time.
9/25
9/26
9/27
9/28
9/29
*NOTE* These two patterns are INTERMEDIATE TO ADVANCED sewing level, as they include zipper installation and some unique assembly techniques.
Once again, thanks for stopping by, and don't forget to leave me a comment below to win!
{Courtney}