{EYMM Capsule Skirt} Tour
Last year I had the opportunity to test the
Capsule Skirt from EYMM
. It is such a simple skirt, but makes an awesome addition to any wardrobe.
The
Capsule Skirt
comes in a wide array of sizes including:
Women's: XS-5X (including maternity option)
Girl's: Newborn-18 (plus doll)
I have a few of these in my wardrobe at the moment, including
THIS
one that I wrote about last year, and my daughter also has a few. I wanted to do something a little different this time around though, so I decided to make the
Capsule Skirt
into a skort for my daughter using the
Jocelyn's Leggings
(shorts version) underneath. These two are the perfect combination for those little girls that are active and on the go.
The construction of the skort was incredibly easy! I believe that it took me MAYBE 30 minutes to make from start to finish which was probably the best use of time for me considering my daughter seems to always be in need of clothes. I think that she is harder on them than both of my boys are! Let's face it; there are many times that we just want a project that is super cut and dry and you can whip out quickly, and this one is definitely it. I would definitely recommend this pattern to beginners as a great starter project for trying out knits. Being that it is a yoga waistband, attaching it is such a breeze and there is no need for elastic.
I love that there is also an option for pockets. Whether you are making the Women's or Girls version, the pockets are so useful to have at times. I tend to not add them to my daughter's since she doesn't care either way, but I definitely add them to my own. One other feature that I really love is that the pattern gives optional cut lines for those who are well endowed in the rump region, like myself. It adds a little length to the skirt so that it hangs evenly all the way around. How clever is that?!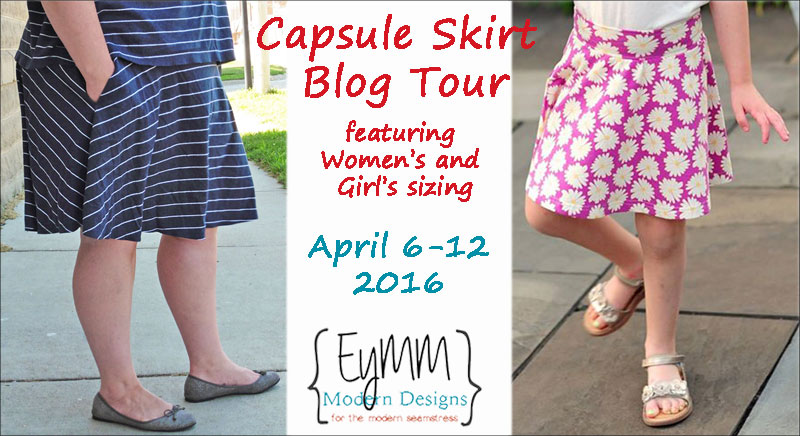 Make sure to check out all the other stops on the EYMM Capsule Skirt Tour. (Note: The links won't be live until the day they're scheduled, but feel free to click through and check out other blog posts any time.)
Wednesday, April 6

Thursday, April 7

Friday, April 8

Saturday, April 9

Sunday, April 10

Monday, April 11
Don't forget to pick up your copy of the pattern while it's on sale! Use coupon code PERFECTSKIRT to save 25% on the
Women's Capsule Skirt
,
Girl's Capsule Skirt
, or
Capsule Skirt Bundle
until April 12 at 11:59pm PST.