{EYMM Daddy & Me} Tour
Over the last few years I sure have created quite the wardrobe for myself and the kids, however I think that I have only made one thing for my husband. To be honest, I wasn't quite sure if he really
wanted
me to make him anything until recently. Out of the blue he asked me "Hey, when are you going to make
me
something cool too?" I was a little taken back, but extremely excited that he really truly wanted some handmades. Little did he know that I had the perfect opportunity coming up.
Today is Day 1 of EYMM's Daddy and Me Tour and I made the
Parker Tee
for both hubby and my youngest son. I should have made another for my oldest son as well and gotten all three of my boys in their tees, but I ran out of time. After I made the adult
Parker
, I told my little guy that I needed to grab his measurements so that I could make him a t-shirt to match daddy and wish I could have grabbed a pic of the look on his face! It was the sweetest thing...he was so excited to match daddy.
I made a straight 2X for my husband and a 6 for the little guy. I actually found the fabric at Walmart and it is an AMAZINGLY soft cotton spandex, has a great drape to it and is nice lightweight which will be good for this Texas heat. They both fit my guys perfectly and my husband just kept telling me how soft and comfortable it was...SCORE!!!!! I will definitely be making more of these for him.
The
Parker Tee
comes in a HUGE range of sizes, starting at Newborn all the way to a Men's 6X...WOW!!!! I went ahead and grabbed the
bundle
and saved a few dollars, but you can grab either the boys or men's sizing if you choose. Options include both long and short sleeves, layered sleeves and either crew or v-neck, and a pocket if desired, making it super versatile. And with the large size range I think I might just be making these for the rest of my life ;) That may be a little extreme, but I certainly could if I wanted to.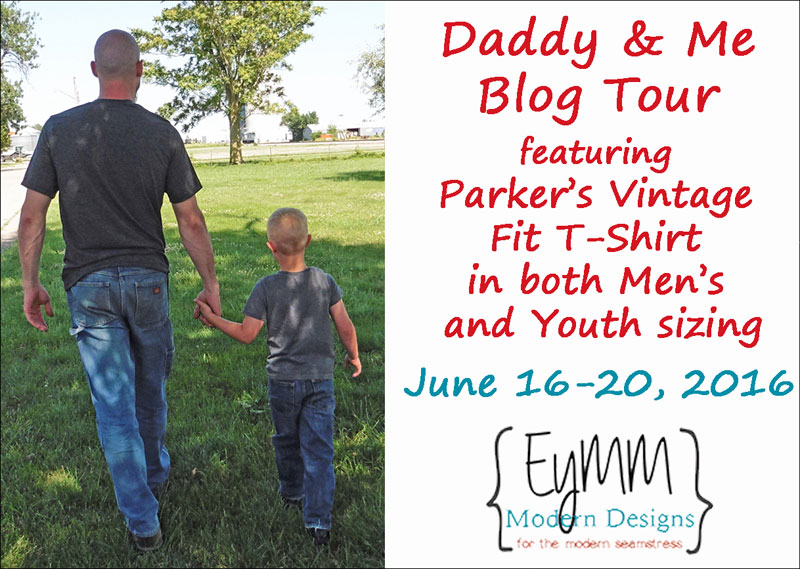 Make sure to check out all the stops on the EYMM Daddy & Me Blog Tour! (Note: the direct links below won't work until their scheduled day, but feel free to click through and check out their blogs any time!)
June 16
June 17
June 18
June 19
During the tour, all Daddy & Me patterns are on sale! Use coupon code MINIME on the
EYMM site
to save 25% on the Parker's T-Shirt patterns (
Boy's
or
Men's
or the
Bundle
) or the Hoodie patterns (
His & Hers Hoodie
or
Zander's Hoodie
or the
Bundle
) until June 21 at 11:59pm PST.